This post is for my sister-in-law.
Earlier this week we were brainstorming creative ways to use wall space….and she asked me to take photos of a few specific "using-wall-space-well" ideas in our home.
So–I figured why not just go all out and share those and then some of my other favorites.
The disclaimer must be, that I am not opposed to using wall space.
So…I also have a tendency to not see it when our wall margins have moved beyond all reasonable boundaries.
But–we have lots of kiddos and not a massive house–so for me, the trade off is worth it.
Hope you will enjoy and  if any of these photos prompt some fun, creative ideas that you're willing to share…I'd love to hear about them!
These wall clip strips are easy to make and are a great way for hanging art work, pocket displays and posters…
To make:  buy a narrow board the length that you are looking for (I was thinking how fun it would be to use this as a border all around a school room or a child's room) and then attach a bulldog clip or something similar that can be found at an office supply store to the wood board with a screw.  Our boards are purposefully "scuffed" to a used appearance because at our  house–it's better if things start off looking a bit "used".
Here's a similar option…we use this to hold chore charts and our "List of ways to help around the house".  I found this one at a garage sale.
These magnetic boards are great for displaying photos and you can find a similar option here.
Magnetic spice containers are perfect for securing to a magnetic board or the side of a refrigerator…which is where we keep them.  But–they would also be great in a home office or school room for storing paper clips, rubber bands or other small odds and ends.  They can be found at here or here or here.
You can also find an inexpensive set of spice labels here.
I shared about our missionary board a few days ago…but this is just a pin board, covered in wrapping paper, with a nice map and some map string showing where the missionaries we support and pray for are located.
This heavy duty mailbox is installed under the ledge of our kitchen counter (so technically it's not a wall) and it's a great way to keep up family communication.  What kiddo doesn't love getting mail?  Retired mailbox units can often be found on Craigslist or Ebay.
Another garage sale find, this book display shelf  is such a fun way to share seasonal books (and it helps us keep track of library books).  I've seen these at Pottery Barn Kids (not cheap) but have also found several on Craiglist.
This art clip system is a really fun way to display artwork.  The wire keeps things from sagging and is very secure.  These can be purchased from Ikea.
The clips move along the wire so if you have a longer item to display you can secure it with several clips.
I can't remember where we found this height measuring board, but the kiddos love to keep track of how much they have grown.  And you wouldn't need anything this official.  Even a nice board with places for keeping track of growth would be fun and this can be displayed pretty much anywhere (even on the back of a door).  Ours is in the laundry room.
This is a MASSIVE…did I say it was large?…bulletin board.  But I love the way the framing makes it look a bit more official.  Baseboard or molding trim can easily be used to frame a large bulletin board.  I see them offered for close to free on Craigslist all the time.  We acquired a 8 ft. by 4 ft. dry erase board (for $10 delivered) off Craigslist a few years ago.
More magnetic boards like these are offered at Crate and Barrel and Ikea…they work really well for displaying artwork.
The key is to get really strong magnets like these, but we found ours at Staples Office Supply Store.
A coat rack was already installed in our school room before it became our "school room" but it now works as a flashcard ring holder.  By attaching book rings to our 100's pocket chart, we were able to hang it from the coat rack hooks.
This tri-fold window frame has wire threaded through each frame with clips along the wire.  We use the clips to hang small fun photos.  My friend Becky noticed a similar one at Pier 1 for $28 if you're willing to pay that.  I'm in the process of trying to make an extra one as a gift, using a large empty wood frame and wire and so far it has been fairly straightforward, but I'm still deciding what to use for the clamps to hold the photos.  I'll add pictures when I get it finished.
A simple pin board collection of me with my guy…is a special spot to remember the last 14 and 1/2 years of our marriage.  Can you tell I love photos?
Remove the backing from a photo frame, but leave the glass and it's a great way to display you child's artwork or other photos…looks especially nice if your walls have some color to them.
These art display clips from the Land of Nod are not very expensive, but they are very cute.  They are currently selling individual clips for $.95.
We love these hair accessory helpers!  The ribbon board is easy to make.  Just find a cute cork display board  or pin board and tack ribbon across it so that you have places to attach the bows.  The ribbon system below is from Melissa at The Ribbon Ring.  She gave me a great deal when she was just starting out and I love having our hair ribbons organized like this.  Her ribbon rings would also work for crafting ribbon or some sewing supplies.  I decided to hang her ribbon rings and the bows from key hooks, similar to these at Home Depot.  The bows are hanging from long strips of ribbon attached to book rings (gotta love those useful little book rings).
Here are a few more "clip strips" from our boys' room…great for hanging art work, assignments, or posters.
Again…paint the board, attach the metal bulldog clips with a screw.
You can also find magnetic bulldog clips if you want to use them with a magnetic board or magnetic strip like this one that is supposed to be for knives, but it would be great mounted along the top of a chalk board or dry erase board for hanging posters or art work.
This wall mounted wire paper sorter is from Costco, but Storables has a similar one.  Great for storing construction paper, magazines, or homeschool materials.
I'm having a difficult time finding more of these, but if you figure out where to buy them, please let me know.  These tiny circles have a sticky self-attaching substance on the back and can be used with push pins, so we put them on the back of our boys' door.  The boys can hang any posters they want and change them as often as they want, without wrecking the door.  Initially I found them at Staples.
Just in case you're looking for an easy way to display collectibles….a Hot Wheels Display Case is usually wall mountable and is a great way to display rocks or whatever else your little guys like to stash away.
Right now our Watch-It-Grow Window Greenhouses are empty, but usually we have them full of sprouting seeds.  At just $2.95 each, these little window greenhouses are a great way for your kids to witness the life cycle of a seed or bean.
Not sure where you can find this exact corner shelf but I love the idea of using the lost space.
A ledge like this is a great way to display special books you are currently reading….
This magazine rack is in our kitchen and we use it to store the most recent editions of magazine subscriptions, current missionary letters, and a folder with "Papers to Show Dad".
And finally…I love this option for displaying either more spices or office supplies….just requires a small ledge and a set of small jars that will fit on the ledge.  It's a great way to get  spices off the counter and out of the pantry so that you have easy access when cooking.  Pottery Barn carries a a similar collection but you can find other options at Storables and on Amazon and Crate and Barrel.   I've also seen them at Ikea.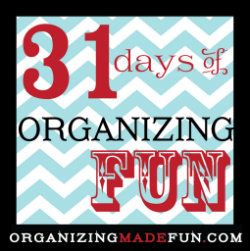 Don't want to miss new posts?
Please connect with us by email, facebook, twitter, or rss feed!